Automated Feedback

System
20/20 Insight Gold

This is an award winning multi-rater feedback platform which can totally revoluntionize your training program.. It is the most powerful, yet user friendly software of its kind in the world. It is the best value for your investment dollars. See how this system can shift accountability to acquire and use the skills being taught to the participants themselves. That becomes the organizaitonal expectation!
The key to Leadership Development
Okay, you've decided you need to take the next step in your training program, and in developing your leaders but you really need to find a system that is the easy to use, powerful, flexible, and affordable.
We believe 20/20 Insight Gold is, by far, the best value automated feedback system available. We have used it with our clients for ten years and highly and recommend it to our clients as a best value product.
More than a million people have participated in feedback projects using 20/20 Insight GOLD's since its release in 1994. They've seen, first hand, the benefits of the quality information that's collected and delivered by this easy-to-use software. Assess use of specific skills and outcomes from those skills to determine the effects of your training program, and then use it to provide the type, quantify and quality of individual feedback that we all must have to keep improving. Collect virtually any type of feedback—ideas, opinions, ratings, facts or surveys—from any number of people about the performance of a product, service, individual, team or even your entire organization!
Benefits of using this system
As Bob Pike, the "Trainer's Trainer" says, People tend to be able to "own" their own data. This is especially true when it comes from a wide variety of resources instead of just their supervisor.
When you survey the skills for a program you are about to conduct, and supply the results to the participants, their managers, upper management and HR/T&D/OD experts, that gets their attention. It's hard for them not to "own" feedback from their own people and their boss.
And then if they know in advance that their boss and HR/OD will be looking at future survey results to determine if they have acquired and are using the skills…well, you have an exceptionally motivated learner walking into your classroom.
Behaviors tend to improve significantly after feedback and before any training. We seem to want to be able to meet others' needs. Then, because the boss and senior management are also involved, they are motivated all the more. Additionally, with this system, the power of not only the numerical values assigned by the various groups compared to a self rating, but the advantage this system offers of having raw, unfiltered open-ended responses after each question is very powerful.


Organizations can more accurately and completely identify specific training programs to meet specific needs. Instead of just asking the managers about the training needs, ask all employees. Using this system, that could be done within a day or two, even with the largest.


Organizations can more accurately monitor the effectiveness of training and development programs as they are implemented to address the highest priority needs.


Organizations can maximize the effectiveness of all of their training. No other method will produce the behavioral change as quickly or as thoroughly as your leaders receiving ongoing feedback, and your training class participants receiving upfront and recurring feedback about the acquisition and use of the skills taught.


Organizations can, for the first time, place the responsibility for acquiring and using the skills upon the participants in the training programs, because they will have a way to measure up-front and after training...several times...to determine if the skills are actually being used. Coaching, retraining, and even reassignment should follow if accountability is going to become a reality in your organization.
Now you can achieve these result too! Easily, simply and affordably generate and distribute reports that deliver the feedback you're looking for. Use this system with each of your training programs to give each the "legs" it needs to be successful. You will quickly join us in recognizing that 20/20 Insight GOLD is the world's first fully integrated and automated feedback system, and then so much more.

Why use 20/20 Insight?

It is extremely User Friendly
20/20 Insight GOLD takes only a few minutes to install. If you can load Microsoft Word, you can load this program. Additionally, the software is intuitive and easy to use, so the administrator could begin setting up projects almost immediately. These components make learning and using the software a simple process:

Administrator Course – Tuition for a two day course at corporate headquarters in Newport News , Virginia , provides hands-on, practical instruction and assures your administrator is ready to hit the ground running.


Tutorial CD –

With both audio and video, this pragmatic and practical CD reinforces how to use the software.




Wizards -

Project set-up is easy and fast.




Online Help -

Quick answers to questions about the software.




The 360 Smart Kit - Lesson plans, scripts and visuals and how to use this system in the conduct of 360 feedback, should you decide to use it in that manner.

The Steps in using the system
(Please call us and allow us to show this to you. Toll-Free 866-230-3131)

Once the names of an organization are uploaded (via a comma-delimited file) select the participants with a mouse click. Select categories and questions with mouse clicks and use as they are or modify them to suit your needs. You can design your surveys using some of our more than 140 categories (such as leadership, listening, etc.) and over 1400 individual, behavioral-based items...and modify any of them as easily as working in MS Word, or start from scratch with your own competencies or items; even what you are using now.


Then, select the scale you want to use. Upload (this takes just a minute or two) to the PSS secure site (SSL), and the system automatically send out a notification to the participant to take the survey. As soon as all have taken the survey, download the responses back into your computer so that you can process the reports.


You then select the one of dozens of standardized reports, or create one of your own. Then you may either print the report to a PDF file and send to each participant as a PDF file, or print out the reports for delivery. It really is just that simple.
A side note: We believe that the combination of the extraordinarily powerful skill-oriented and behaviorally based program, with its accompanying online reinforcement tools…and more, make a compelling case for combining this system with the Vital Learning programs. In fact, we have already developed and are using survey questions you will need for the up-front measurement and ongoing reinforcement of the skills taught in the Leadership Series.

It is Flexible
20/20 Insight GOLD offers unsurpassed flexibility.

Now you have one software package that can be used to provide a platform for assessing training needs, providing ongoing feedback to ensure the skills are being used and those not acquiring them receive extra help or reassignment, for organization surveys, team development efforts, individual development, leadership development, and customer feedback and training evaluation. In the individual and professional developmental roles, this platform can be used for

Training needs assessment—

Collect and assimilate training needs as viewed by all of your organization, not just as viewed by managers

.


Ongoing automated feedback for individual skill development – Change forever how your organization assesses, plans for, administers, and evaluates training programs. With this system, change the accountability from the training department making people go sit through a class they don't want to be in to learn concepts they don't believe they need, to a very, very different view.




The new view is of a highly motivated learner coming into class with a report showing him or her lacking in skills the organization has deemed important. They are very eager to acquire and use these skills because they recognize that their bosses, their senior leaders will be looking at follow-on reports which will report how well and how often they are using these skills.



They also know that while some coaching, mentoring and even re-training might be possible, eventually they will either display these skills or they will be in a different job or a different company.





Leader development -

Executives, managers and supervisors can diagnose skill strengths and areas for development.




Team development -

Assess team issues by collecting input from a variety of customers and stakeholders.




Organizational climate surveys -

Collect information about the organization's vision, values, policies, structure, communication and management support.




Customer satisfaction surveys - Collect information about how your customers feel about your policies, service, terms, products and more.
.

It is Customizable
20/20 Insight GOLD is easily customized to change with your growing needs.

With 20/20 Insight GOLD, you can tailor almost any aspect of a feedback project-at no extra charge! You can customize all of these project elements:

Survey Areas - Customize standard survey categories and items, and add your own survey areas. The system comes with a library full of surveys, questions and categories; modify these with a mouse eclick and a keystroke, or start with your own.


Measurement Scales - Create scales from 2 points to 12 points in length. Use up to four unique scales per project.


Types of Projects -

Request any kind of single or multi-source input or feedback. Use scales, open-ended questions-or a combination of both.




Comments - Have respondents enter comments for every item if you like. They are very, very powerful. Also, include end-of-survey questions for additional comments.


Relationship types - Choose from standard perspectives such as peer, team member and manager, or create customized relationship types (such as senior leadership, community leaders, regulatory agencies, vendors, Board of Directors, etc.) with a mouse click and a few keystrokes, for color coded break-out in reports.


Instructions -

Customize on-screen instructions for respondent assessments and email messages.




Customer satisfaction surveys -

Get feedback from customers to find out what you need to change to create loyal customers. We have a multitude of questions and sample survey material for customer satisfaction surveys.




Corporate Climate Surveys – Get feedback from all of your workers about the corporate climate. Learn what they think about the leadership, the vision, the standards, the systems, etc. What you don't know really can hurt you. Again, we have a vast number of categories and questions already developed.


Developmental recommendations –

These are normally used when the system is used for 360 feedback. The survey categories for Team Leadership and Personal Leadership contain very powerful recommendations for development. You can edit the recommendations or add locally available resources. You can select this option with a mouse click.




Report formats -

Select from dozens of report templates or create your own. Print report sections in any sequence you like. You pay nothing for printing as many reports as often as you like.

It is a Great Value
20/20 Insight GOLD is a great value for the money.
With 20/20 Insight GOLD, you get multi-faceted software which may be used for a host of corporate information gathering. It can literally revolutionize your training efforts. It can gather data from any number of sources, easily, quickly and economically. In it's professional development role, the 360 use, it is alone in its inclusion of information for both assessments and development. This unprecedented combination of software programs is the best value in the industry. All these benefits are included in the package price:
Free technical support on an 800 number.
Free upgrades.
A library of over 140 categories and over 1400 behavioral based questions, including those related to the Vital Learning Series
Two-day Administrator Course (in Newport News , VA ).
The 360 SmartKit CD.
20/20 Insight GOLD Tutorial CD.
On-site self-customization.
Unlimited report printing.
Ability to aggregate reports
Ability to compare this year's data with last year's data (or the first report with the second report.
Respondent comment reports.
Reports at the individual, project or aggregate (multi-project) level.
Individual development planning software for everyone in the organization.
You get the software system which goes on one Windows based computer
You have the option of purchasing single usage licenses or the very cost effective unlimited usage licenses for your people. usage
Give us a call (866-230-3131) and allow us to show you more of this system, find out about your needs, and then provide some pricing information.
Note: When you are examining pricing, be sure to look at unlimited usages and how they can save you money. It is important to look at the 10 year and 20 years investment, not just the first year. With this system, you own it and with unlimited usages you own those usages; the upfront investment saves you a lot of money over that ten year period…even when compared to systems that are not anywhere close to as powerful, flexible and easy to use.

The Software System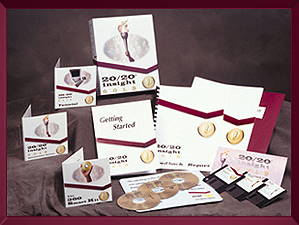 Set up projects quickly and easily with this program, the heart of the 20/20 Insight GOLD system. You can manage multiple projects simultaneously and aggregate report data from as many projects as desired. The Survey Library contains more than 1,400 survey items in over 140 categories. Use them "as is" or customize them (with a mouse click and a key stroke) to fit the requirements of your organization. You can also add your own surveys to the library.
Use the Administration Software to:
Set up subjects, respondents, survey questions, and rating scales.
Make, distribute and collect respondent assessments.
Print individual reports and summary project reports.
Make copies of the IDP software for follow-up development.
The Administration Software is confidential.
Password for administration software: The Administration Software is protected by a password, ensuring that only authorized people have access to the program.
Password for each project: Each feedback project is protected by its own password, so only administrators who know the password can access a specific project.
Respondent Software
The Administration Software makes it easy to create respondent software for each person providing feedback in a project. A user-friendly, intuitive interface makes completing the assessment quick and easy. The Respondent Software can be distributed the internet.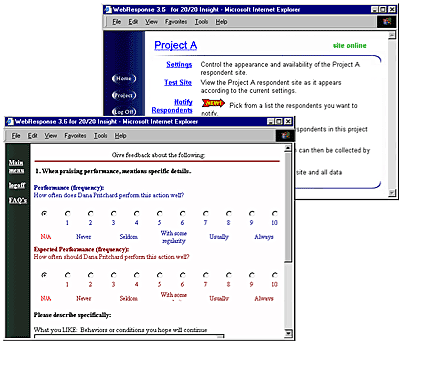 And it's completely confidential!
Passwords. The respondent software will not open without entering a password.
Encryption. Passwords, ratings and comments on the respondent software are encoded so that they can't be read by anyone who opens a data file.
Anonymity of feedback. Respondent names aren't collected with ratings. Only average scores are reported- not individual ratings.

WebResponse
WebResponse is the module that lets you use the 20/20 Insight GOLD system to create web-based assessments and post them on your intranet or on the web.
Why you'll want to use this new technology:
Makes it easy to get feedback from customers and employees.
Saves time in distributing and collecting assessments.
Automatically includes the URL when you send email notifications to respondents.
Works with most browsers.
Individual Development Planning Software (IDP)
Feedback without follow-up does not lead to the desired change in behavior. The 20/20¨ Insight GOLD program includes the IDP program, at no additional charge, to address this crucial development piece of the process. You can give individual development planning software to everyone in your organization to analyze feedback, create a plan and track progress - at no extra charge!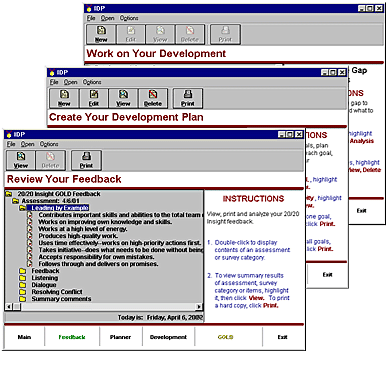 The IDP is a stand-alone individual development planning program that helps feedback recipients do four things:
Review 20/20 Insight GOLD feedback data.
Analyze feedback for strengths and problem areas.
Set goals and create a development plan.
Monitor self-development progress.
The IDP software can be given to everyone in your organization,whether they've been assessed with 20/20 Insight GOLD or not. It's a valuableplanning and development tool that's easily installed on each person's hard drive.

The 360 Smart Kit
The 360 Smart Kit CD gives you all the up-front information you'll need to implement multi-rate and 360 feedback projects in your organization. This CD-ROM contains valuable resources for asking the right questions up-front and implementing successful feedback projects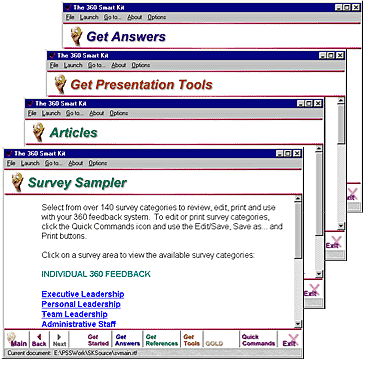 Two dozen experts answer the 80 most commonly-asked questions about 360 feedback.
Lesson plans, scripts and PowerPoint¨ files for facilitating orientation, feedback and development planning sessions.
Reprints of published articles on 360 feedback and multi-source feedback
A bibliography of over 100 books and articles about multi-source feedback
A survey sampler with
hundreds of items from the 20/20 Insight GOLD Survey Library.
Use this invaluable resource to get smart about multi-rater feedback.
With your purchase of the software, you also receive:
FREE technical support for one year.
FREE software upgrades from now on.
Registration for one person to attend our two-day Administrator Course.
Complete online Help system.
Please allow us to show you more about how easy this system is to use, discuss your needs, and finally give you some pricing info, once we have enough data.

Register for the online showcase and to download a copy of a sample report.
(Our system with the downloadable material is temporaily down. On an interim basis only, you will need to contact us so that we can direct you to the specific area you need. We apologize for the inconvenience.)